News
Bobotie Recipe
by Merinda Carstens on Mar 19, 2021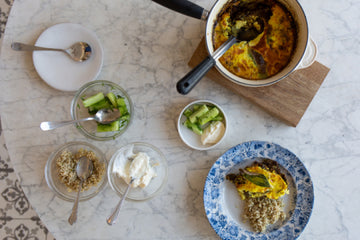 CHEF ALLISTAIRE IS BRINGING THE WERF RESTAURANT RIGHT TO YOUR KITCHEN
Now there's no need to wait for The Werf Restaurant to re-open for you to enjoy a delicious Werf-style meal. With the assistance of Executive Chef Allistaire Lawrence, you can try your hand at some of our favourite dishes.
Werf-style Braised Beef Shin Bobotie
As winter draws near, we can't help but long for hearty meals that warm you up from the inside. Our chefs have put a Werf Restaurant twist on the traditional Cape Malay bobotie and you certainly can't go wrong serving up this South African favourite.
Instead of using minced beef, we cook our Black Angus beef shin until it reaches a soft and tender "pulled beef" consistency that will melt in your mouth. A crucial step to attain this is to marinate the meat overnight with the curry spices. Served with Chef Al's homemade chutney, there won't be any leftovers for lunch.
Some more good news!
If you're not feeling so confident in the kitchen or want to take the night off, we've got something special for you! Our Pop-Up Farm Shop is now selling delicious ready-made Werf meals that are perfect to heat-and-eat. The list includes our farm-style pies, homemade lasagne and even a few Werf Restaurant desserts that are sure to leave you wanting more. You can download our current price list below and keep an eye on our Farm Shop page for updates and new additions to the line!
DOWNLOAD READY-MADE MEAL PRICE LIST HERE
We love seeing how you cook & enjoy products from Boschendal! Please use the #TASTEBOSCHENDAL hashtag when posting on social media, so we can see what you are getting up to at home