News
Meet the Makers - Farmer Jason produces farm fresh meat.
by Merinda Carstens on Sep 15, 2021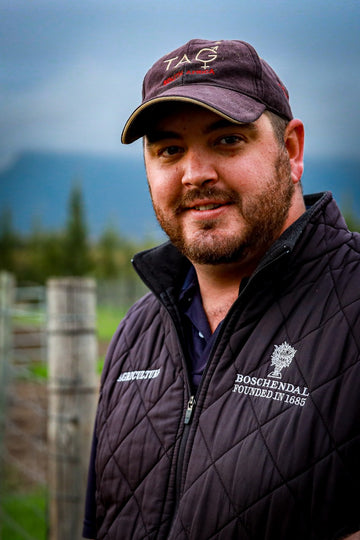 Meet the Makers - Farmer Jason Produces farm fresh meat. 
This is the third in a series of articles introducing the Boschendal community to some of the extraordinary makers that provide their sustainable and farm fresh goods to the newly-launched Boschendal omni-channel store. Farmer Jason plays an important role in ensuring our meat selection is farm fresh and ethical.
Boschendal's sustainable farming roots run deep. As the site of the original Rhodes fruit farm, and one of the oldest wine farms in South Africa, our connection to the soil, fauna and flora of our beautiful natural surroundings is part of the DNA of what makes Boschendal what it is today.
Regenerative farming is essential for sustainability
In fact, Boschendal recently became the first farm in the Cape Winelands to receive the prestigious Environmental and Animal Welfare certification from A Greener World. Our ethical approach to the animals and environment resident at our farm has also led to Boschendal becoming one of only 50 farms worldwide to be considered for a new regenerative farming certification, with a special recognition of our innovative collaboration with the animals that live here.
The driving force behind much our success in this regard is sustainable farmer Jason Carroll, Boschendal's charming and nature-loving livestock manager.
"It is vital that people change their relationship with the animals that provide their food," says Jason. "People need to understand where their food comes from, and be able to make informed decisions over how animals are treated prior to them landing on their plates."
Free-roaming lifestyle for our animals
Jason tends to our majestic free-roaming Black Angus cattle that are the source of much of the mouth-watering farm fresh steaks, short ribs, biltong, mince, burgers and charcuterie found at our The Werf restaurant and The Deli, and more recently on the new Boschendal omnichannel store.
He also watches over the drove of Duroc pigs that roam the forests surrounding Boschendal, and keeps a watchful gaze on the layer hens clucking around the farm.
"The stunning countryside setting allows all our animals to roam freely and eat only the best, natural, additive-free grasses, much like what they would encounter if left to live in nature," explains Jason. "The better our animals are doing physically and emotionally, the better quality meat they produce. We farm without any artificial interference, and stay far away from hormones and antibiotics."
Healthy farm fresh meat from our farm to your door
The result? Boschendal farm fresh meat is lower in saturated fat, higher in vitamin E, and offers a rich blend of omega 3 and 6 fatty acids. "Anyone purchasing farm fresh meat from our store can do so safe in the knowledge that the animals were treated well, that the meat is healthy and additive-free, and that the entire process was conducted in an ethically-conscious way."
With a healthy understanding that much of the world's current farming practices are unsustainable and, often, outright harmful to the animals, environment and ultimately people, Jason takes a holistic approach to the animals in his care.
"Boschendal's commitment to regenerative farming practices creates a harmonious environment for our animals. As our Black Angus cattle graze peacefully in the farm's wide-open fields, their natural activity creates opportunities for our team to naturally restore the soil, which then contributes to the quality of the other produce grown at Boschendal."
Asked about the future, Jason says it is vital that we establish more sustainable ways of living for the benefit of our children and grandchildren. "Our farm animals sustain us and, in turn, it is our duty to ensure we create a sustainable environment for them. By pioneering ethically-conscious farming practices, we also create a blueprint for future generations for maintaining the health of our ecosystem. As much as this is a business, it is also a higher calling, one that is becoming increasingly vital as the effects of a changing climate take hold."
The results of Jason's expert care and guidance can be experienced on Boschendal's omnichannel store. Look for the farm fresh sliced beef biltong, Angus beef ribeye and mouth-watering Angus beef bone broth here.