News
Meet the Makers – Barrydale Hand Weavers and their bespoke handcrafted homeware
by Ashleigh Kavanagh on Jul 21, 2021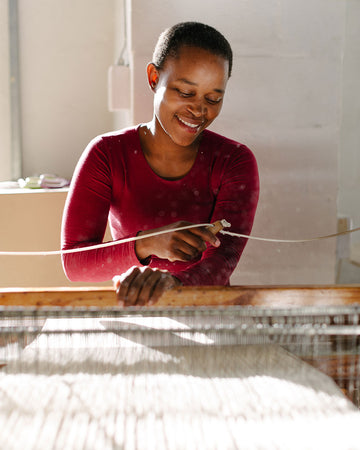 Meet the Makers – Barrydale Hand Weavers and their bespoke handcrafted homeware 
This is the first in a series of articles introducing the Boschendal community to some of the extraordinary makers that provide their beautifully crafted goods to the newly-launched Boschendal omni-channel store.
Born of a conscious desire to slow down, Barrydale Hand Weavers takes a uniquely considered approach to craftsmanship. For owners Kate and Arran Bastable, it has allowed them to not only preserve an ancient process that results in beautiful handcrafted products, but also unlock and empower the talent of local craftspeople from their community.
 A Courageous Leap 
Arran discovered the business through a family friend during a visit to wife Kate's parents, who reside in Barrydale. The couple fell in love with the idea of slowing down and living in a beautiful Little Karoo town, and took the courageous leap of moving from Scotland with their three young children in 2018.
Built on an ethos of transparency and honesty and a strong community spirit, Barrydale Hand Weavers has grown from a small local venture into a modern producer of exceptionally crafted hand woven products. Since the Bastables took over, the business has gone from strength to strength despite the disruption of a global pandemic. 
"We bought the business from founder Carol Morris in 2019," says Arran. "Coming from an engineering background, I had little experience in craft, but was passionate about learning about the production process, and wanted to lend support to our very talented team of weavers. We also had the benefit of our most experienced weaver, Tivane, who had worked with Carol for more than 10 years, and who played an instrumental role in training new weavers as the business grew."
 Our Team is Our Future
It wasn't long after the Bastables took over the company that the pandemic struck and severely disrupted their operations. "We all pulled together and got through the worst of the initial lockdown restrictions while retaining every member of our team. In fact, we have grown our team and increased our revenue despite losing months to the initial, strict lockdown. We've always believed that our team is the future of the business, and continue to invest in their development and empowerment as a means of ensuring the long-term success of the business."
Barrydale Hand Weavers produces a range of hand-woven products including bath towels, tea towels, table linen, blankets and throws, cushion covers, mats and rugs, including a bespoke range that is exclusive to Boschendal. 
Supporting Local 
"We like working with Boschendal, as they share our focus on supporting and developing local craftsmen and empowering local communities," says Arran. "South African businesses have greater strength when they work together and support one another, especially during these difficult times. People are also increasingly conscious of where the products they buy are manufactured - there is definitely a growing spirit of supporting local businesses that bodes well for our collective future."
We simply love the beautiful bespoke placemats and French country napkins that Arran and his talented team of weavers produces for our online store, and look forward to continuing working with Barrydale Hand Weavers over the coming years. 
Shop our locally-sourced Boschendal Homeware selection.
 Vuyo loving hand weaves homeware products at Barrydale Hand Weavers.
 Meet the team at Barrydale Hand Weavers who lovingly handcraft every homeware accessory for our Boschendal online shop.
 Each item produced by Barrydale Hand Weavers is handcrafted for our Boschendal homeware selection.