News
Making the most of this season's juicy plums
by Boschendal SA Admin on Feb 08, 2021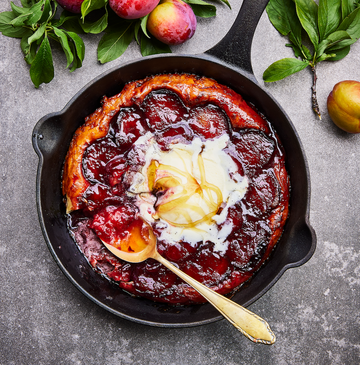 When our fragrant, sweet and tangy plums come into season at Boschendal Wine Farm, summer is well under way. So, we've collected together 7 easy-to-follow recipes that make the best use of this sweet and juicy crop,
which is available to purchase in our Farm Shop.

With around 30 hectares under fruit, Boschendal Wine Farm is serious about plums. In fact Cherry plums are grown exclusively at BoschendalWine Farm. It's a unique new fruit that's a natural cross between plums and cherries. The Boschendal Plum Festival is a time to celebrate this most versatile, healthy fruit that's rich in vitamins A, C and E and calcium, and which contains folic acid, potassium, iron and beta-carotene.

At the first bite, the cherry plum is sweet and spicy and then it rounds off with a tart and plummy finish. It originated from the Zaiger Breeding program in Modesto, California and 80 000 trees were planted at Boschendal Wine Farm. Cherry Plums are planted using an innovative trellising system with double row, high tree density and low tree-height which is ideal for Boschendal Wine Farm as we predominantly have a female workforce. This system allows for effortless pruning, thinning and picking without the use of ladders. During the first harvest, 36 tons of Cherry plums – roughly 90 000 fruits – were picked. Cherry plums are round in shape and between 35-40mm which makes them ideal for snacking and packing into lunch boxes. Gourmet chefs and home cooks alike enjoy using them in a range of recipes, some of them collected here.

Our recipes are simple and easy to follow. They showcase the versatility of this fruit, which the Romans boiled in wine to make a medicinal tea. Available in a range of varieties, each a different jewel-like colour, plums are more than a healthy addition to the fruit bowl – they're also a versatile and healthy ingredient in the kitchen. Whether you roast, grill or bake them, pickle or preserve them, turn them into a crumble or serve them as the topping on a cake, the simple plum is highly adaptable. Plums made into jams and jellies and chutneys are always popular and they're delicious cooked in stews and casseroles. Jam or chutney? If it's jam, you're after, happily plum jam is one of the simplest jams to make because they're got so much pectin in them so plum jam always sets. For a little more flavour, just add the seeds of a vanilla pod or even some ginger.
If chutney is more to your taste and you like your meat spiced up, add cinnamon, ginger or cumin to your chutney.
Spicy plum chutney goes especially well with pork and with Gruyère or cheddar cheese.

PICKLED FRESH PLUM RELISH
Delicious with pork, venison or meat pâté.

½ jalapeno chilli, seeded and finely chopped
500g plums, pitted and cut in half and each half into quarters
200ml brown sugar
100ml cider or white wine vinegar
1 bay leaf
Julienne strips of a ¼ orange
2ml coriander seeds
1ml salt

Place a small plate in the freezer. Put all the ingredients in a pot. Cook over low heat, stirring occasionally until sugar dissolves, about 5 minutes. Bring the mixture to the boil and cook for 45-60 minutes. Test the jam for doneness – when a teaspoon of jam gels on the frozen plate within 1-2 minutes. Transfer the relish to jars, cool at room temperature and refrigerate. It keeps for 3 months if unopened.

SPICED PLUM CHUTNEY
Delicious with pork, sausage and cheese platters.

1/3 cup sugar
½ cinnamon stick
1 star anise
6 ripe plums, pitted and chopped
Strip of orange rind
Pinch of cumin
1 tsp fresh ginger
Sea salt and freshly ground black pepper

Pour the sugar into a saucepan and add just enough water to dissolve it. Add cinnamon and star anise. Place on the stove and simmer until syrup reduces right down, the bubbles start to get bigger, and the syrup turns golden brown. Add the plums, orange zest, cumin and ginger. Cook for 15-20 minutes. Remove from the heat, season with salt and pepper. Serve at room temperature with meat or chilled with cheeses

PLUM DIPPING SAUCE
Delicious as a dipping sauce for appetizers, spring rolls, dim sum, crispy chicken wings, mini pork sausages and mini chicken or pork meatballs.

5 plums, peeled, pitted and chopped
30ml sugar
30ml rice wine vinegar
5ml soy sauce
125 ml water
15ml vegetable oil
10ml fresh garlic, crushed or finely chopped
10ml fresh ginger, finely chopped

Heat the vegetable oil, add the garlic and ginger and gently fry for 1-2 minutes. Add plums and cook for 5-6 minutes until they disintegrate. Add rest of the ingredients, reduce the heat and simmer for 15 minutes. Remove from the heat and cool.

TOMATO AND PLUM SALAD
A fragrant quick and easy summer salad.

The salad:
400g tomatoes, any variety or size (cut large ones into 1cm wedges, cut cherry tomatoes in half)
400g plums, pitted and cut into 1cm wedges
4 spring onions, finely sliced
1g fresh coriander
Flaked sea salt

The dressing:
10ml castor sugar
30ml rice vinegar
10ml soy sauce
30ml sesame or olive oil
5ml ginger, freshly grated
½ clove garlic, crushed
¼ tsp orange rind, finely grated

Mix the salad ingredients together and put aside. Lightly whisk together the dressing ingredients and toss into the salad. Serve immediately.

BAKED WHOLE PLUMS IN SWEET WINE
A summer dessert that will leave you begging for seconds.

Serves 6

1kg large purple plums
¼ cup soft brown sugar
Butter
½ cup sweet hanepoot wine or semi-sweet rosé

To serve, mix together
½ cup plain yoghurt
½ cup fresh cream

Rinse and dry the plums. Arrange the whole plums upright in a single layer in a buttered ovenproof dish just large enough to hold them. Sprinkle with the sugar at 180°C for 10 minutes. Pour over the wine and bake for 25 minutes, or until tender, but still holding their shape. Serve warm with the well-chilled yoghurt and cream mix.

FRESH PLUM CRUMBLE
Most people use oats in crumbles but in summer, almond flour is a light alternative. Both works equally well.
Wheat- and gluten-free.

Serves 6

The filling:
1kg ripe, firm plums
Butter, for greasing
1 orange, zested and juiced
2 tbsp muscovado sugar
Fresh nutmeg, grated
1 cinnamon stick
1 star anise
Thick sour cream, for serving
Fresh mint, to garnish

The topping:
150g almond flour (or oats)
60g muscovado sugar
¼ tsp ground cinnamon
Fresh nutmeg, grated
60g cold butter

Preheat the oven to 190°C. Cut eight slices from each plum. Place in a 25cm x 15cm greased pie dish. Add the orange zest and juice and sprinkle with the sugar. Grate over a little nutmeg, tuck in the cinnamon and star anise. Mix the almond flour with the sugar and spices. Cut in the butter and rub in with your fingertips until sticky. Crumble over the fruit. Bake for 30 minutes, or until brown, crisp and the fruit is tender. Serve with sour cream and garnish with the mint.

MAPLE ROAST PLUMS WITH CINNAMON MUSCOVADO YOGHURT
A rich, aromatic finale to a long slow summer dinner.

Serves 4

8 slightly under ripe red plums, pitted and halved
200g Greek yoghurt
2 x 15ml tbsp dark muscovado sugar
1 tsp ground cinnamon
24g unsalted butter, softened
60ml maple syrup
4-star anise

Preheat the oven to 190°C. Stir the yoghurt, sugar and cinnamon together in a bowl, then leave to stand to let the sugar dissolve and the flavours deepen. In an ovenproof dish or shallow casserole, in which the halved plums will fit snugly, warm the butter, maple syrup and star anise just until the butter has melted; you can do this on the stove or in the oven. Either way, remove the dish from the heat. Place the plums in the dish, cut-side down, then turn them straight away cut-side up, transfer to the oven and bake for 20 minutes, at which time you should baste the plums with the syrupy juices. Then give them another 10-20 minutes until they are just soft – a quick prod with a small fork should let you know – but still holding their shape. Let the dish sit out of the oven for 10 minutes before serving, with the aromatic yogurt in a bowl alongside.